It is time again for the wonderful House-a-Palooza, where all houses and housing items are on sale!
We will be having a Deathbane Maze Challenge to celebrate House-a-Palooza!
The Pick Up Place: Hedge Maze
Realm: Seraph
Area: Any area, the Pick Ups will come to pick you up no matter what area you are in.
If you can not port to a Pick Up or a Pick Up is not porting, it means that the house is full and they have to wait and until people are at the next house.
The Prize for this Deathbane Maze Challenge is:
A Metropolitan Manor + Pack of 6 Teleporters + Additional Housing Elixir!
NOTICE: YOU MUST BE A LEGENDS OF THE SPIRAL MEMBER TO WIN A PRIZE. IF YOU INVITE A FRIEND WHO IS NOT A LEGENDS OF THE SPIRAL MEMBER AND THEY WIN, THEY WILL NOT BE ABLE TO RECEIVE THEIR PRIZE.


*Menu Chatters, if you win something you will be whispered a menu chat phrase in which you must post in the "Talk About It"!
The First to complete the maze will receive a code for the prize above.
Winner: kpolner
Anthony Deathbane will be hiding somewhere in the Maze and the first to find him and say "Ready to go" (Menu Chat> Activities> Ready to go) will also win a code.
Anthony Deathbane is a level 73, Death Wizard that looks like this: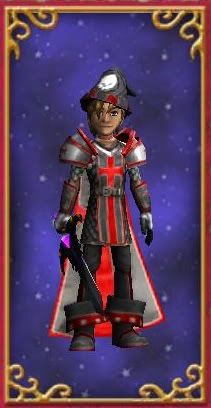 He can be hiding in any house! If you don't have faith in winning first place in the Maze, try finding him!
Winner: SoGaclan
Finally, we have our regular Spiral Cup Contest!
Once you make it to the end of the maze, take a snapshot of yourself next to the Spiral Cup saying, "Almost Done" (Menu Chat>Activities>Almost Done).
Send it to contests@legendsofthespiral.com with the header:
House-a-Palooza Spiral Cup Raffle.
We will pick a random entry, and who ever has the entry we picked will win a code!
MAKE SURE TO INPUT YOUR LEGENDS OF THE SPIRAL USERNAME IN THE EMAIL!

You have 3 ways to win a code! Good luck and happy House-a-Palooza!